'Blessed be Inanna' ART PRINTS by Marta Hutt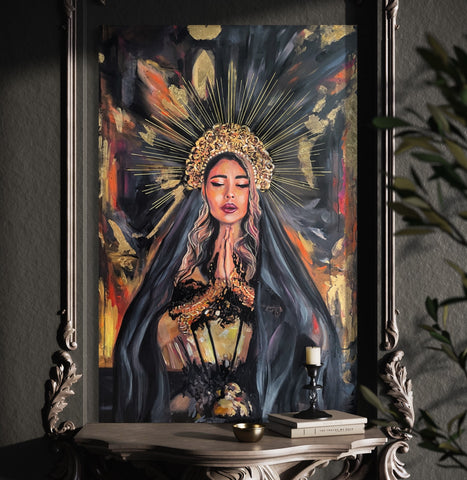 'Blessed be Inanna' ART PRINTS by Marta Hutt
Description:
'Blessed be Inanna'
The most highly venerated deity in Ancient Mesopotamia was Inanna, who was also known as Ishtar after the two were merged. She was known as the Queen of Heaven and was the goddess of love, sex, war and justice. She also was believed to have the ability to change a person's gender. This power of Inanna's, the ability to change a man into a woman and vice versa, is well accounted for in multiple poetry fragments and is indicative of the existence of people living outside the gender binary in ancient Mesopotamia.
 ___________________
Original painting technique and size: acrylic paint and 24 carat gold on 120x80cm canvas 
Each art print is numbered and signed by the artist and it comes with the certificate of authenticity.
This art has been created and printed by the artist to the highest standards to last a lifetime.
Art prints sizes available:
A0
33-1/8 x 46-13/16 in
841 x 1188 mm
 

84.1 x 118.8 cm

A1
23-3/8 x 33-1/8 in
594 x 841 mm
 

59.4 x 84.1 cm

A2
16-1/2 x 23-3/8 in
420 x 594 mm
 

42.0 x 59.4 cm

A3
11-3/4 x 16-1/2 in
297 x 420 mm
 

29.7 x 42.0 cm

A4
8-1/4 x 11-3/4 in
210 x 297 mm
 

21.0 x 29.7 cm